Club Trip To Germany
Several members of the N.S.VW.A decided to make the trip to Germany for this years Bad Camberg VW Show. The following article is by Tom Underwood.
  We arrived in Bad Camberg late Friday night. After checking into our host hotel, we drove to Lotterman's Dealership and the show site. After meeting some of the members of our sister club and shooting a little VW bull, we turned in for the night to be rested for the big day of the show.
  We got up early, had a great German style breakfast and headed tot he dealership. We arrived just intime to see will Lotterman and some of his collection headed tot he show site. This is a pre 57 VW show and Willi has some very unusual cars including a farm buggy built on a 1950 bus frame.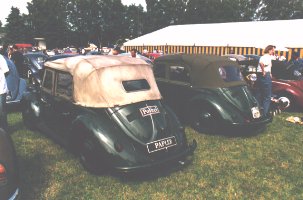 As we walked down to the show site, we saw many of the VWs on their way to the show. What a site, Hebs, 4 door taxis, ladder trucks, police cars, fire trucks, and lots of very old VWs. The road tot he show was lined with more pre 57 VWs than you would ever see in the states.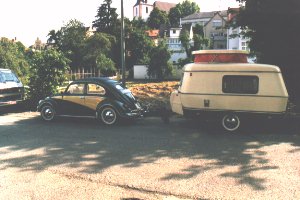 At the front gate were many examples of VW towed campers. The owners actually pulled those to the show with 36hp cars. It was fun to see a German camper setup from the early '50s still in use and in very good condition.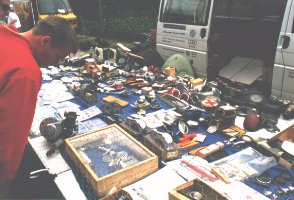 Once inside the gates, it was a feast for the eyesof early VWs. We started down the vendor aisle, I saw items I had never except in magazines. There were many Americans poking throught the items avaliable. I even managed to find a pair of $25 fluted lenses for my 59 Euro Sunroof. I was happy.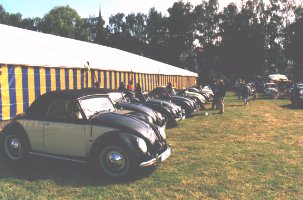 After buying lots of goodies, we headed over to the show area. This is where you could look at over 250 really cool old VWs. 11 Hebmulers in a row, military vehicles from WW II, police cars, and even a VW ladder truck that you could climb up to get a better view of the show site.
  While walking around, I ran into into Mac Jones from Memphis. Mac is an avid collector of vintage VWs and has been to the Volunteer Bug Jam showing his Schwimmwagen.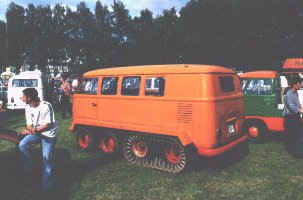 Next I went to the bus area. There were buses made into ambulances, hightop campers, barndoor buses, a bus with 16 wheels, 8 with a track on them, fire engines complete with VW powered water pumps. There were some vendors there selling Fire Dpt. items. Something for every bus enthusiast.
Next Page