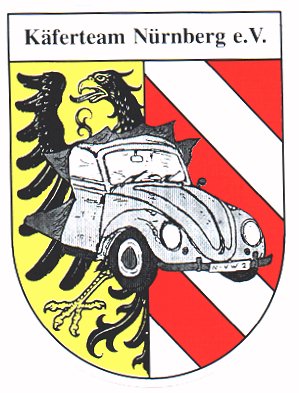 After walking around and drooling over all these vintage cars, I went over to the Beer Tent to quench my thirst. Good beer and bratwurst and a meet with our sister club Käferteam Nürnberg. After some broken English and German discussion, we formally voted to join together as sisterclubs. We now have a connection with a German club for our future tours to Germany. Käferteam Nürnberg puts on several shows during the year. One thing I noticed about thier club was that they do very similar shows, as we do in Knoxville, during Volunteer Bug Jam. Lots of entertainment, VW education, and fun events for the show patrons to compete in. Not your average show.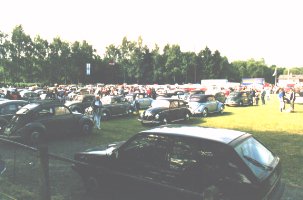 After the meet, I went to the car area to see what I might have missed. Now there were about 300 vintage VWs parked everywhere. The site was packed. We stopped by the "Return to the Fatherland" group and talked to them about thier experiences. Those guys had one hell of a trip. Congratulations to all those guys on the long trip they made.
  We spent the rest of the afternoon talking and admiring everyones find of the day. One thing that kind of throws your time perception off is the long daylight hours in Germany, it doesn't get dark until about 11:30 and the sun comes up at 5 AM.
  We went back to the tent with several VW groups from Germany, England, America, and Ireland. Our sister club introduced us to the proper way to party in a German Beer Tent. Lots of VW bull flowed freely. We got to see and hear how these clubs run their shows and what was hot in their areas. We made amny friends and look forward to coming to their shows on our next tour overseas.
  This meet wound down around 2 AM. Thanks to all the VW enthusiasts who attended and gave us new ideas to use at our show.
  Sunday morning was just as busy as Saturday. Last minute bargains abounded. The Sunday tour through the country side was impressive. We caught rides with Käferteam Nürnberg and members of the clubs we had just met. People lined the roads and were quite excited to see so mant old VWs ina a parade. As the show slowly wound down, we said our goodbyes to our friends and headed back to the hotel. That evening we met with all the Americans that went on our tour and shared our stories of what we had been part of. Everyone said it was the best show they had ever been to and would like to come back in 2003.
  We left Bad Camberg Monday morning after stopping by Lotterman's to talk with Willi and his son Marcus about the great time we had and if they might do another show in the future. 4 years is a long time, they will let us know in time to plan another NSVWA tour to Bad Camberg.
Next stop was the Wolfsburg Factory tour and VW museum. What a treat to see where our beloved VW's came from. The tour lasted 2 hours and was very informative. We got to see the new VW line that is now being built and all the process involved. The museum is a must see for all VW enthusiasts on a trip to Germany. We will have a display and video tapes of our trip at Volunteer Bug Jam 99
The NSVWA tour to Bad Camberg was a great success. I hope others will join us on our trips in the furute. For more information on upcomming tours, please contact NSVWA for info.